Corporate

Profile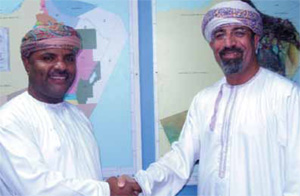 Golden Dunes International LLC (

gDi

) was founded in 2007 as the Flagship Company of the Golden Dunes Group. Since its inception,

gDi

has gone from strength to strength in the Sultanate of Oman. Strongly supported by the commitment and dedication of its people,

gDi

has built a solid foundation of relationships with leading local and international clients.

The founding members of

gDi

bring to the company over five decades of accumulative experience in the Oil & Gas sector.

gDi

has fostered excellent relationships with major industry players. They also have established extensive networking with petrochemical plants, power plants and the business community in Oman, regionally as well as globally.

Synergistically embracing challenges and dynamism,

gDi

has continued to evolve and expand in a short period of time to become an organization known for its professionalism and business acumen. Developing extensive operations in a variety of business sectors,

gDi

is now firmly entrenched as an industry player with far-reaching business presence providing a solid platform in the GCC and MENA Region.


Mission, Vision

& Values
At

gDi

, the foundation of our business is enshrined in our mission statement of value-added success in all our business endeavors.

Our modus operandi in achieving this Mission is rooted in professional integrity, as we utilize teamwork to realize our Vision and deliver on goal-specific business success, thereby adding Value to our business concerns and partnerships.



MOTTO


We add value in everything we do.



VISION


To become diverse, industry pioneers with successful businesses locally, regionally and internationally.



MISSION


Attract and retain a synergistic team of highly successful and talented employees who will safely, efficiently and cost effectively provide our clientele with top quality products and services that meet their needs without damaging the environment.



CORE VALUES


Teamwork, Reliability, Integrity.
HSE

Quality
As the Company's core business involves products used in Oil & Gas, Petrochemicals, Energy, Water & Waste Water, Industrial and Construction sectors, Power & Energy Solutions and Technology, we strive to:


| | |
| --- | --- |
| | Ensure that the health and safety requirements of all DDI personnel are sufficiently addressed as well as to provide adequate protection of the environment; |
| | Embed and integrate the HSE aspects in all its business processes; |
| | Consider all opportunities to make a positive contribution to the environment in all our activities; |
| | Proactively comply with all applicable HSE legislations, codes and standards enforced by the Sultanate of Oman; |
| | Implement the best available technology to mitigate HSE risks as low as reasonably practicable; |
| | Provide requisite skills and knowledge through education, training, involvement and motivation to employees and business partners; |
| | Devise ways to continuously improve HSE performance in order to minimize LTI resulting from ill health and incidents, and to maintain a harmonious, healthy and work-conducive workplace; |
| | Reduce environmental emissions and waste relative to all its business activities. |
gDi

is committed to the process of continuous improvement, and its Management ensures the organization focuses on the CUSTOMER as key to the success of their service provision. As a highly diversified organization,

gDi

's main goal is customer satisfaction through top level product quality and continuous improvement of the service offered to our customers, granting qualified pre-sales consultancy, on-time delivery, timely and decisive post-sales technical assistance, either directly or through our partners. The involvement, the growth and the constant cooperation with suppliers are the fundamental elements for

gDi

's competitiveness.